DATE: 2 June 2017

MEDIA RELEASE
TO: MEDIA LIST
KUR-World developer's successive legal breaches make his "Eco-Resort" claims even more dubious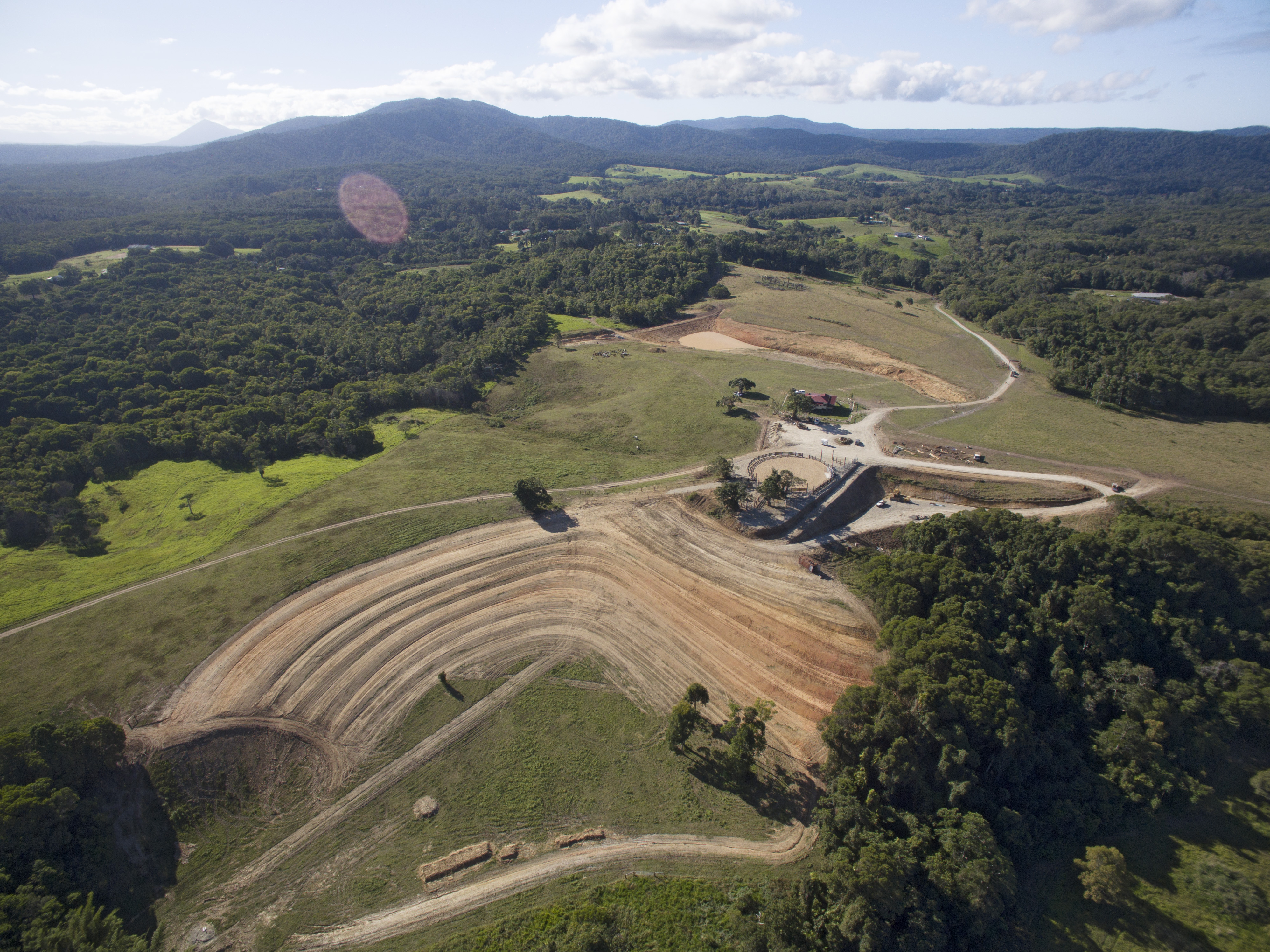 KUR-WORLD SITE JULY 2016: Illegal dam in background. Illegal homestead renovation mid photograph. Three additional extensive earthworks in foreground have been reported to Mareeba Shire Council and State Government. PHOTO HI-RES VERSION
"Australia's Foreign Investment Policy states The Government expects all investors (both foreign and domestically-owned) to comply with Australia's laws and maintain high standards of conduct at all times. This includes following both the spirit and the letter of Australian law, and acting in good faith in complying with any conditions imposed by the Government." said resident Seanne McCarthur.
"I can't see any way in which we could conclude the KUR-World developer is acting according to this policy."
"Macao-based developer Ken Lee has committed at least three significant infringements of local and state planning laws since he acquired land in the environmentally sensitive Myola Valley, near Kuranda in January 2014″.
"To the best of our knowledge none of these breaches have resulted in a fine even though these actions have caused extensive damage that has required remediation.  A formal request has been made to Mareeba Shire Council to review the handling of these legal breaches."
When queried by a resident at the KRPG Public Meeting in October 2016 about the illegal dam and whether Ken Lee or Reever and Ocean Pty Ltd had been fined, councillor Nipper Brown and CEO Peter Franks from Mareeba Shire Council refused to comment.
These successive legal infringements are all the more frustrating for Kuranda residents, as Mareeba Shire Councillors have apparently been directed not to discuss 'KUR-World' with locals until the State Government has made a decision.  Local MP, Craig Crawford, has proved to be impervious to our concerns.
"This high-handed behaviour is making a joke of our democracy."
"We call on the Premier to intervene and stop this grossly inappropriate and unpopular development before more time and effort is wasted."
For more information contact Seanne McCarthur on 0438 660 741
LEGAL ADVICE
Since 2015, a number of documented breaches of planning, environment and building laws have occurred on the former Barnwell Estate. The breaches include the construction of a large dam without a permit; unlawful removal of native vegetation and building work on the house without a permit. The Mareeba Shire Council either retrospectively approved these unlawful works or ignored them. The Council and State and Federal environment departments have failed to explain to the community what their enforcement policies are and why they have all failed to protect the community and the environment from these repeated breaches.
Regrettably, the carrying out of the unlawful dam, building and vegetation removal works puts the proponent of the KUR-World co-ordinated project at an unfair advantage in relation to the EIS process. This is because the baseline from which the EIS is done has shifted from what it would have been before the unlawful works. The disadvantage falls to this concerned community and our unique wet tropics wildlife.
Tania Heber, Principal Solicitor – Environmental Defenders Office of Northern Queensland
ATTACHMENT:
LETTER TO MAREEBA SHIRE COUNCIL: Confirmed breaches of the Sustainable Planning Act 2009
http://kurandaregion.org/letter-to-msc-confirmed-breaches-of-the-sustainable-planning-2009-act-1-jun-2017/