On 26 March 2017 our community will take to the streets of our village in a peaceful rally against the proposed KUR-World development.
Our resident survey data extract of over 400 residents – shown below – is an early indicator of an overall UNFAVOURABLE opinion of the KUR-World proposal.
WHAT CAN YOU DO?
Print the rally poster and hang it – click here to download
Save the date – put 26 March on your calendar and remind others to do the same.  Share via Facebook and email.
Start talking with friends and family about meeting up to walk together
If you have children – rallies can be great fun!  Start getting your decorations organised.
Are you are creative type?  Do you have costumes or decoration ideas for the rally?
Face painters please step forward if you have time to help on the day
Chant STOP KUR-WORLD. NO CHANGE OF LAND-USE.
Decorations like banners, bamboo signs, fern leaves, etc.  Think natural materials – not synthetic.
Can you help with simple tasks on the day, ie. helping community members sign the official petition, setting up, packing up, etc
Megaphones for the walk – we will take good care of them
2 peaceful horses to lead our rally with riders Leah and Eleanor
SEND US YOUR CONTACTS
RALLY OVERVIEW
Sunday 26th March 2017
Meet near Skyrail carpark at 10.20am, for start at 10.30am
At 10.30am we will walk from Coondoo St. to Centenary Park
Watermelon slices on arrival
Speakers and entertainment
KUR-World Rally Poster Print A4 PDF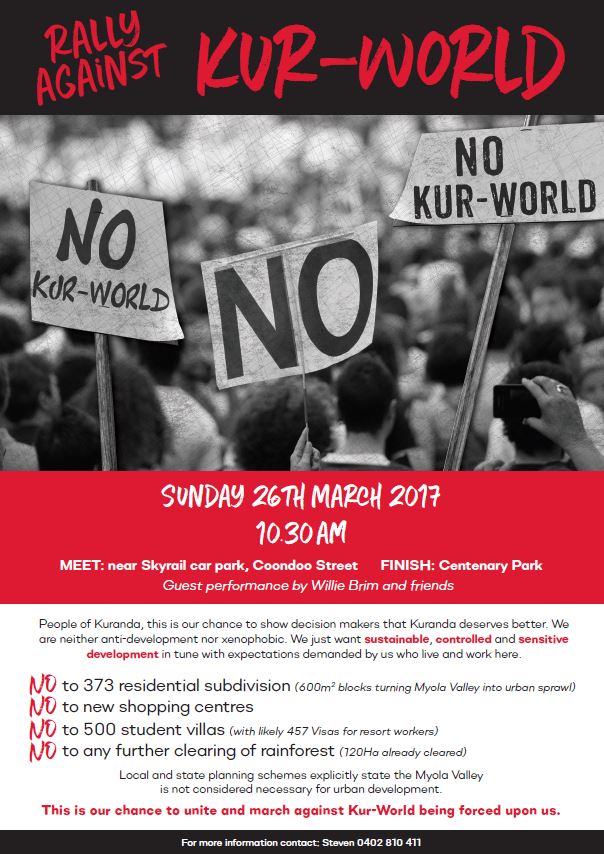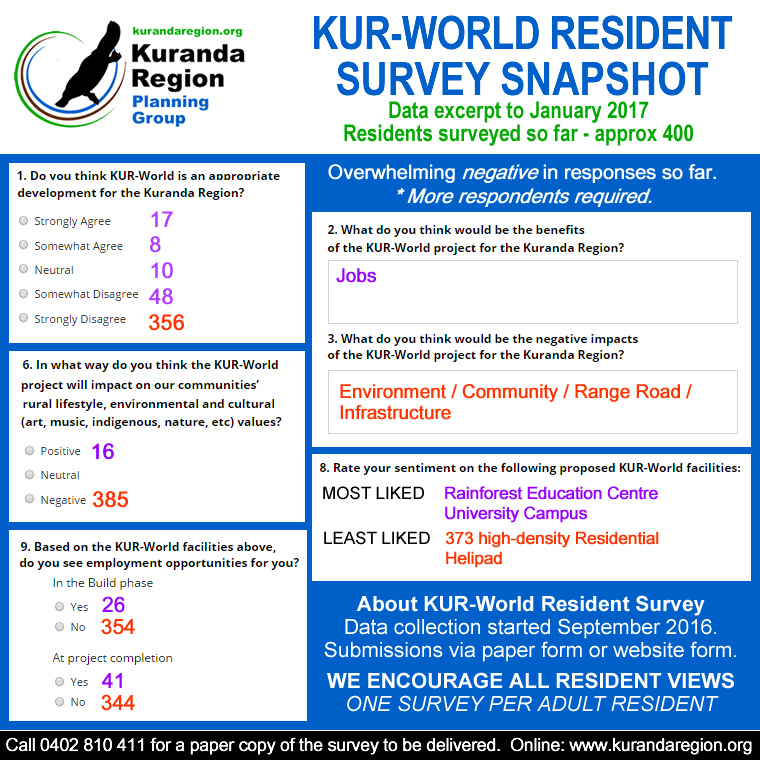 QLD PEACEFUL ASSEMBLIES ACT 1992
We will be using the QLD Peaceful Assemblies Act 1992 for the rally:
5. Right of peaceful assembly
(1) A person has the right to assemble peacefully with others in a public place.
For more information on the ACT, click here