ORIGINAL FILE: Reporting-Earthworks-Activity-Barnwell-Kuranda-MSC-9-Dec-2016
Bulwai Cultural Heritage Lions Club
PO Box 661, Kuranda QLD 4881
Phone: 07 4093 9008
Date: 9 December 2016
To: Mareeba Shire Council via email
CC: Kuranda Region Planning Group
Re: BARNWELL 12 RURAL TITLES / KUR-WORLD / KUR-COW, KURANDA
I would like to bring to your attention three (3) additional earthworks greater than 50m3 on this property. These earthworks are in addition to the dam that has since been retrospectively approved by council in July 2016.
From drone surveys and video footage I have discovered the following major earthworks on the land since REEVER AND OCEAN (DEVELOPMENTS) PTY LTD purchase in JANUARY 2014. The developer has shown no regard for the land and water by not applying for the appropriate permits for these Operational Works.
Of particular concern is SITE3 Earthworks – a large cut-and-fill directly above Haren Creek – which was constructed at the same time as the dam. Fill was used from the dam on this site as can be seen from a media photo. Has this 'corner' been engineered for public use and to ensure it won't be lost in a Wet Season?
[see images in ORIGINAL FILE]
Your urgent reply on this matter would be greatly appreciated.
Yours sincerely
William Brim
Bulwai Cultural Custodian
Bulwai Cultural Heritage Lions Club
Djabugay-Bulway-Yirrgay-Nyakali-Guluy People (QC2015/005)
---
REPLY RECEIVED: 12 DEC 16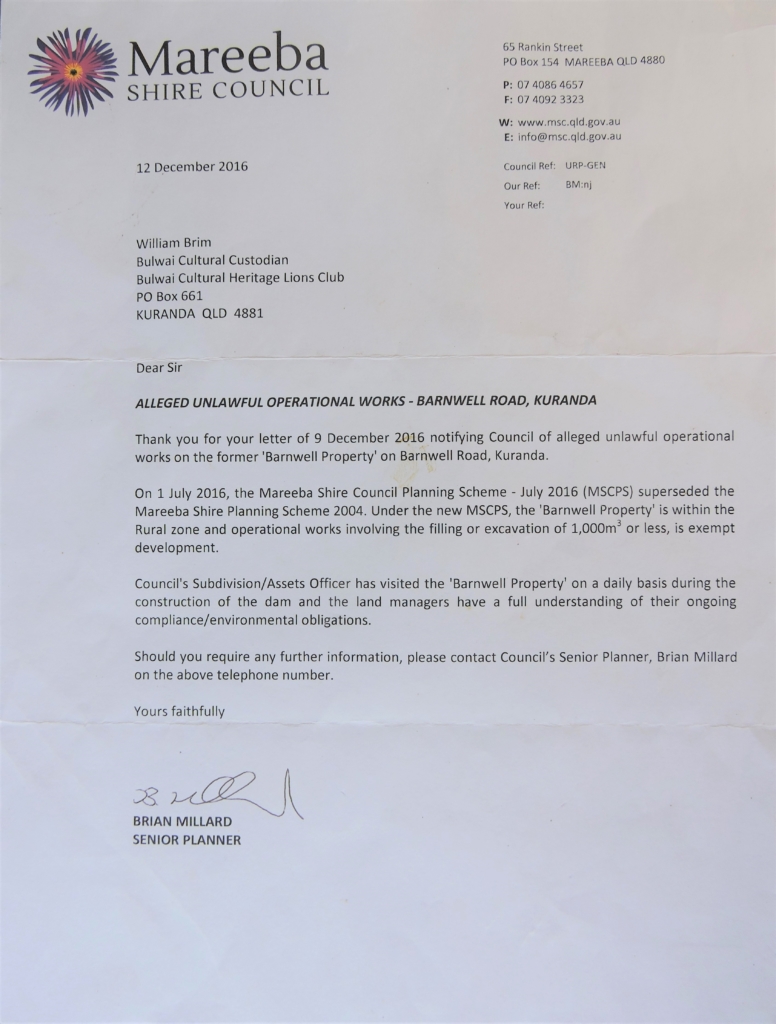 ---
FOLLOW UP LETTER SENT: 31 JAN 17