EIS Bite Size was developed by Steven Nowakowski, President of Kur-Alert Inc.
The Kur-World EIS has been published and is over 4,000 pages long. Our community team has distilled various major concerns from the documents.
Perusing the documents in such a short time frame is a herculean effort so I hope these little fact sheets can help give you a little grasp the enormity and complexity of this development.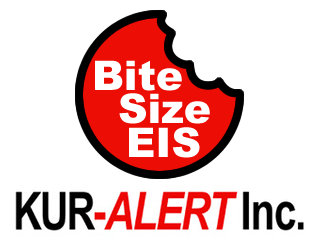 The Kuranda Range Road is notorious for high traffic volume, accidents and unexpected closures and delays due to incidents, fallen trees and landslides. As this area experiences high levels of rainfall during the wet season, this wreaks havoc on the already heavy flow of traffic from Cairns and the Northern Beaches to the Tablelands. 
Kuranda Range Road renders Kur-World unviable
The Range Road currently has a design capacity of 10,000 vehicles per day. This limit will be reached by the end of 2019 without the existence of Kur-World.
If Kur-World goes ahead, during the three construction phases (estimated to be completed in 2026), the traffic on the range will quickly increase far beyond its capacity with:
tradies, each with their own vehicles equipped with tools
construction workers
construction and building supply trucks.
After some construction is completed and the first stages of Kur-World are operational, traffic on the Range Road will also be compounded with:
an estimated additional 2000 people living in the area (Kur World EIS)
a proposed 4,400 visitors to Kur-World, many who will travel from the Cairns airport
an additional 2,000 staff and services vehicles.
The Project Manager for the Kuranda Range reported in 2003 that the existing Range Road was unsustainable and indicated a four-lane road would be needed for future demands. This was without a proposed development the size of Kur-World on the horizon.
In October 2018 the current state Transport Minister advised there will be no significant upgrade to the road in the near future.
But even if that decision was overturned, and the Range Road was to be upgraded to this degree, it would take approximately a billion dollars and 10-15 years before it was completed.
For more than a decade, the increased traffic on the range would create more:
delays
stoppages
accidents causing injury and death
environmental degradation
road kill (cassowaries frequently cross this road)
breakdowns
Smithfield Roundabout Bottleneck
The roundabout at the base of the Kuranda Range sees approximately 45,000 vehicles pass through each day. The Smithfield roundabout is notorious for its congestion and wait times, especially in peak hour traffic. Although Qld State Government has approved a bypass road to the Northern Beaches, this will not be finished for four years. This is too late to help with the volumes of traffic associated with Kur-World.
Without a reliable, safe and efficient system of transport between the Myola site and Cairns, Kur-World is not viable.
KEY MESSAGES
The Kuranda Range Road would only be viable for the traffic Kur-World will generate if it is upgraded to a four-lane highway. Even if this were in the plans and it is NOT, it would take 10-15 years to complete.
The Smithfield roundabout is already congested and the proposed bypass road to alleviate this problem will take four years to complete.
Infrastructure must be in place before an increase in population and development.